FREQUENTLY ASKED QUESTIONS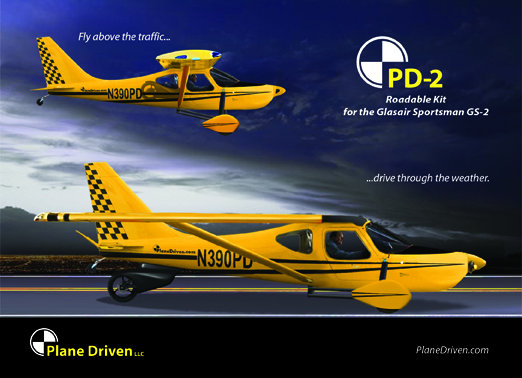 THE KIT
Plane Driven is motivated to make a great general aviation airplane street legal.  Weather often forces a pilot to land and wait out a passing storm or persistent low clouds.  With the Plane Driven PD-2 kit, a pilot does not have to sit and wait for the weather to improve.  Plane Driven chose the Glasair Sportsman as a natural platform to add a roadable kit conversion.  The Sportsman is known for it's folding wings and its ability to easily convert to various gear configurations, including tricyle gear, conventional (tail wheel) gear, straight floats, amphibious floats and skis.  Now, with the Plane Driven PD-2 kit,  the the Sportsman can convert to a street legal motorcycle, allowing you to drive through storms ahead.
 Back to Top
When will the PD kits be available?
Plane Driven gets closer every day to production of PD-2 kits. Use the Contact Us link at the top right of this page to tell us about your interest and to find out when you can get delivery of a PD-2 roadable kit for the Plane Driven ready Glasair Sportsman.
 Back to Top
Can I use PD kit on any existing Glasstar or Sportsman?
Plane Driven PD-2 kits will only fit a Glasair Sportsman built specifically for it. Glasair offers an option to add the structure necessary for the Plane Driven PD-2 kit.
 Back to Top
The Plane Driven PD-2 kit includes everything necessary to make the Glasair Sportsman PD-2 roadable and in compliance with the Federal Motor Vehicle Safety Standards for Motorcycle.  Components include:  steerable front wheels, brakes, wheel pants, a rear drive unit, all required lighting, and all cables and connections.
 Back to Top
Are there any kit options to consider?
Power pod and wheel pants can be painted in accordance with customer supplied color code.
 Back to Top
How much assembly is involved with the PD road kit?
Once your Glasair Sportsman is flying, the vehicle frame is delivered to the PD Mfg. LLC shop, where we will install  the power-plant and all components to meet the FMVSS for motorcycle.  A VIN is issued and your are ready to register and drive away.
 Back to Top
How much does the PD-2 kit cost?
Pricing for the PD-2 is not yet locked in, however we are working to keep the cost of the installed PD-2 kit below $60,000 US.
 Back to Top
LICENSE AND INSURANCE  (in the USA)
Requirements for driving include:  a driver's licence, a motorcycle endorsement, and in some states a trike endorsement. Requirements for flying include: a private pilot's certificate or better,  a current medical, and a SEL (single engine land) rating with a tailwheel endorsement.
 Back to Top
How do I get a license plate in my state?
Most states allow for a three wheel vehicle to be licensed as a motorcycle.
 Back to Top
How can I insure PD-2 in the air and on the road?
Most aviation insurance companies are able to insure a Glasair Sportsman for standard aviation operations.  At this time our prototype has full coverage for flight, with a drive policy for liability only . We are working towards finding  full drive mode coverage for production PD-2 vehicles.
 Back to Top
OPERATING
Is the PD-2 as safe to drive as a car?
No. The PD-2 is certified to meet the FMVSS for motorcycle and therefore does not have certain safety features such as air bags.  Additionally, as compared to a modern passenger car, the PD-2 has limitations with roll over stability and crash worthiness.  The driver of a PD-2 must exercise good judgement when deciding if conditions are safe to drive in.  A defensive driving course and a trike course are strongly recommended.
 Back to Top

How many people will the PD-2 hold in flight?
Although the Glasair Sportsman is a four place aircraft, it becomes a 2 person aircraft when carrying the PD-2 drive pod.  It is worth noting that one can easily remove the power pod and use the 4 place Sportsman for it's full capability.
 Back to Top

How fast will it go on the highway?
The PD has been driven up to 73 mph.
 Back to Top

How fast will it go in the air?
The PD-2 has consistently flown up to 140mph in the air.  Aerodynamic improvements, like wheel pants,  should increased air speed.
 Back to Top

What is the range between fuel stops, in the air and on the road?
The range is 200+ miles on the road and 472 miles in the air.
 Back to Top

Can I drive on the highway in a stormy weather?
Driving on the highway during stormy weather is what the PD-2 is made for.  Of course good judgement must be exercised by the driver when encountering conditions such as severe crosswinds combined with other conditions, such as severe side slopes.
 Back to Top

Can PD-2 be driven up steep hills and on bumpy roads?
The PD-2 has 50HP. It's power to weight ratio is similar to a 1965 VW bug. The PD-2 has shown the capability to climb highway grades, and the suspension is tolerant of  bumpy roads.
 Back to Top
There is no spare due to weight limitations. We recommend a can of "Fix-a-flat" and or calling AAA.
 Back to Top

What is the useful load for flight?
The useful load of the prototype is currently 630 pounds. We anticipate increasing the useful load to 730 pounds.
 Back to Top

What is the service ceiling in flight?
Demonstrated service ceiling is 15,000′ to date.
 Back to Top

What is involved with transitioning between the flight and drive modes?
The procedure is manual.  There is a check list follow which includes floding the wings, raising or lowering the front wheels, and moving the drive unit between the baggage area and the drive position.
 Back to Top

Can I fly to an airport near my summer cabin, drive to the cabin, then reconfigure to floats?
Absolutely!  We look forward to publishing creative uses of the PD-2.
 Back to Top

Is the same fuel used for both engines?
No.  100ll is used for the IO390 210hp Lycoming and regular automotive unleaded fuel is used in the drive unit.
 Back to Top
The PD-2 will fit is a garage space with minimum dimensio of  8′ 7″ wide, 10′ high and 25'deep.
 Back to Top
……………………………………..